Residential Parcel Drop Lockers
Click n Collect™ Smart Lockers for apartment buildings are both feature rich and super easy to use. Provide your residents a state-of-the-art delivery experience that guarantees security, convenience and timeliness.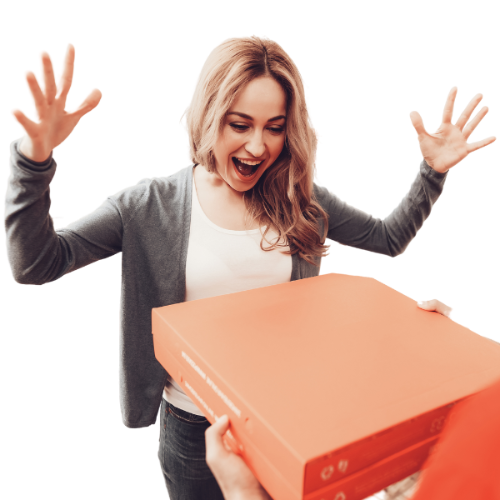 THE FUTURE OF PACKAGE DELIVERY
Create a premium location with residential lockers
Most individuals can agree that parcel deliveries are a headache to deal with. Missed delivery cards, running to the local post office before it's inconvenient closing time and waiting in queues for staff are some of the most common delivery elements that waste a significant amount of time. Residential package lockers offer a simple and secure way for apartment residents to have their parcels and groceries delivered to their doorstep without them needing to be home. Discover the benefits of residential package lockers below.
Resident experience
We probably don't need to reiterate the need for you as developers or body corporate to focus on delivering a positive and convenient living experience for residents. Our residential parcel lockers can offer a secure, and convenient package pickup option for your residents, allowing them to retrieve their online orders at their own convenience.
Efficient management
Building management are tasked with managing the property to ensure it operates smoothly and efficiently. Our self-service and contactless lockers can help simplify the management of package deliveries, reduce the workload of building staff, and provide a hassle-free, 24-7 pickup option for your residents.
Sustainability
Environmental sustainability and energy efficiency is an emerging priority for developers and body corporates. Click n Collect's north star is creating solutions that are intuitive, user-friendly, and tailored to meet the needs of real people. At the same time, we're also committed to staying on the cutting edge of technology, incorporating the latest advancements that lead to a more energy efficient and environmentally friendly solutions.
USER FRIENDLY
Simple and easy to use for 'non-techies'
Our residential parcel drop lockers feature an intuitive interface specifically designed for residential living. It's easy for residents to securely store and retrieve items in their apartment building. Whether accessed via smartphones or on-site touchscreens, our system provides clear instructions and visual cues for a smooth, hassle-free experience.
TRUSTED BY J.P. MORGAN
Uncompromising Security & Privacy
We prioritise the security and privacy of resident data in your parcel locker system. We've implemented robust security measures, including encrypted communication and secure authentication methods, to anticipate and counter potential vulnerabilities.
SEAMLESS INTEGRATION
APIs empowering possibilities
Our smart parcel lockers integrates seamlessly with existing residential systems, including access control, security, and resident management software. And your residents can enjoy a clutter-free home screen on their mobile device, as our residential smart locker system requires no third-party app downloads for a seamless, hassle-free experience.
ULTIMATE CONVENIENCE
Introduce the full-suite of services and show effortless life can be
Opting to install our smart lockers in your residential building can offer a premium experience for your tenants, providing unparalleled convenience and security for their deliveries. This can include regular parcel deliveries as well as grocery, food delivery, courier and even dry cleaning deliveries with specific locker designs, removing the need for a concierge in your building.
Features unique to Click n Collect
Our smart locker solutions are designed to meet the unique needs of your users.
ADA compliant

Designed to be user-friendly for everyone, including people with disabilities. It's all about making sure no one's left out.
Custom-branded screens

Showcase your own logo, colours, and style, making your apartment building the star of the show!
Outdoor lockers

Our lockers are IP55 rated, ensuring they can withstand various outdoor conditions such as rain, dust, and extreme temperatures.
FEATURED PROJECTS
Find a simple solution to residential package lockers
Opting to install our smart lockers in your residential building can offer a premium experience for your tenants, providing unparalleled convenience and security for their deliveries.
How our smart lockers work
OKA™ enables convenient, contactless and secure deliveries via our turn-key building access and delivery solution.
Step 1

The courier identifies themselves at the locker system console before selecting the resident and locker size(s).
Step 2

Your resident will receive a SMS or email with a unique QR code or one-time pin that allows only them to access the locker.
Step 3

Your resident can collect their items anytime- day or night- for a complete contactless parcel delivery service.
CLICK N COLLECT LOCKERS
Say goodbye to parcel theft with Click n Collect
In addition to our simple collection process, our lengthy security prevention technology ensures that only a particular courier and respective resident can access their locker with their unique QR code. This removes any misplaced parcels from concierge mistakes and reduces the occurrence of theft from deliveries left in shared spaces such as apartment lobbies, enhancing your building's overall security level.
LEARN
Frequently Asked Questions
What are smart lockers for multifamily apartments?
Smart lockers for multifamily apartments are high-tech storage solutions that provide secure and convenient access to lockers for residents of apartment complexes. They are often used for package delivery, dry cleaning, and other services that require secure storage.
Can smart lockers be used for package delivery in apartment buildings?
Yes, smart lockers are commonly used for package delivery in apartment buildings. They provide a secure way for delivery companies to drop off packages without necessarily needing to access secure areas of the building or leave packages outside of residents' doors.
How can smart lockers benefit residential apartment complexes?
Smart lockers can benefit residential apartment complexes by providing a secure and convenient way for residents to receive deliveries. They can also help apartment building managers reduce the workload associated with managing deliveries and provide additional revenue streams through services like dry cleaning.
How do residents access smart lockers in apartment buildings?
Residents can access smart lockers in apartment buildings via a mobile phone or a one-time pin sent to their email. Once the user has authenticated their identity, the locker will unlock, and they can retrieve their package(s).
What happens to parcels that require a signature?
Click n Collect™ provides a digital-signature for every delivery and collection transaction. This means no one needs to physically sign for deliveries. Digital signatures are accepted by the courier companies and provide utmost security and traceability of every transaction.
What additional services can I combine with parcel lockers?
What security features do parcel lockers for apartments have?
Parcel lockers for apartments typically have strong security features, such as biometric identification, video surveillance, and tamper-proof locks. They are designed to prevent theft and unauthorised access.
Are residential lockers easy to install in apartment buildings?
Installation and maintenance of smart lockers will depend on the specific provider and model. Click n Collect provides turn-key solutions, from design and manufacturing, through to installation and ongoing support. For certain applications, we can provide detailed instructions for self-installation and maintenance. In any case, it is important to follow the manufacturer's instructions carefully and to perform regular maintenance to ensure the continued performance of the lockers. It is important to choose a provider that has experience installing lockers in apartment buildings and to ensure that the installation process will not disrupt residents.
How much space do smart lockers for apartments require?
The amount of space required for smart lockers in apartment buildings will depend on the number and size of the lockers. We offer a range of locker sizes (95 to be exact) to fit different needs, and the total space required will depend on the number of lockers and the layout of the space.
What are the costs associated with implementing smart lockers in apartment buildings?
The cost of implementing smart lockers in your apartment complex will vary depending on the size, features, and customisation options. If you're looking for a Smart Locker that will just perform the basics, you can expect to spend $2-5k on average less than investing in a state-of-the-art locker system. However, to take advantage of the leap forward in locker technology and get the very best user experience, expect to pay a little more.
How can apartment building managers monitor and manage parcel lockers?
Apartment building managers can monitor and manage smart lockers through a central management system provided by some locker providers. Click n Collect's industry-leading software allows managers to track locker usage, monitor deliveries, and manage access permissions for residents and service providers. Our system automatically notifies residents when a package is ready for collection and will also send reminders for overdue packages.
INDUSTRY LEADING SOFTWARE
Secure and streamline parcel deliveries
Residents aren't the only ones to suffer from poor parcel management. Building staff often spend more time organising and lodging incoming deliveries than needed. Therefore, installing a residential parcel locker will benefit the operations of your building's staff, streamlining their work. This will ensure more of their work hours are spent on regular and more important duties to provide a high-quality service for your residents, costing you less in operational costs.

Designed with innovative security measures, our residential building parcel lockers will remove the need for sorting and organising for your staff. Instead, this process will be managed and streamlined when parcels are first delivered. Our residential package lockers data can also be integrated with your current system to monitor their usage and daily access information in one convenient location.
Your software at a glance
Your industry-leading residential parcel locker software is backed by 24/7 customer support.
Intuitive UI & UX

Simple and easy to use for 'non-techies' and supports multiple languages.
End-to-end encryption

Data on servers and terminals is fully encrypted during end-to-end transfers, and additionally, all personal data (if captured) is encrypted at rest.
Uptime guarantee

Click n Collect offers an unparalleled commitment to reliability, with an impressive service level guarantee of 99.9% uptime.
Courier agnostic

Click n Collect lockers can receive deliveries from all approved courier and food delivery companies.
Digital signature

Accepted by couriers, Click n Collect software provides a digital signature for every transaction- ensuring and end-to-end chain of custody.
Virtual locker

Almost 20% of packages delivered are oversized. With Click n Collect's virtual locker you can rest assured that IOO% of deliveries will be accepted, including overflow during the holidays.
"Working with Click n Collect is amazing. They are true experts at what they do, fast and professional. They have truly managed to leverage our physical stores in a digital era. We are looking forward to continue growing our Click and Collect offering with Click n Collect".
RECENT PROJECTS
We know the path intimately and we're here to walk it with you
Click n Collect is the leading provider of intelligent electronic lockers, with over three decades of experience in the industry. We've earned a reputation for manufacturing and installing secure delivery solutions for various businesses and sectors. If you have any queries about our residential building parcel lockers, including the innovative technology used and the customisation abilities available, or to request a demo, contact our team today.
Further insights
Delved into the world of Smart Lockers and pioneering technologies across various sectors and applications.
Parcel Lockers
Unlocking Retail Innovation: The Transformative Power of Click and Collect Lockers | Click n Collect
Smart Lockers
Discover the latest innovation in secure storage solutions with our guide to smart lockers for businesses. Learn how they can enhance business...
Parcel Lockers
This guide explains what a parcel locker is in an apartment building, how it works, and its benefits for residents and property managers. Find out...